This is the result of my Grandfather coloring with my daughter. No wonder I'm so strange. <3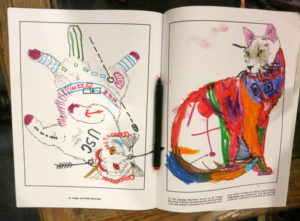 I've posted about my favorite Easter tradition – our Resurrection garden. You can read about it here. Here's our garden this year:
Day one (left)- buying "Jesus" and giving him flowers.
Day two (right) – the flowers are wilting and sad, much like Jesus' followers would have been.
Day three (right again) – the rock is rolled away, the tomb is empty, and there is new life!
Happy Easter! Our son got this great Easter Egg and I just had to pose him inside it! 🙂