We celebrated ten years of marriage with a short trip up to San Luis Obispo. Despite the recent pain, it was nice to get away for a bit and just rest. We didn't have any specific plans, which was nice after the recent stress.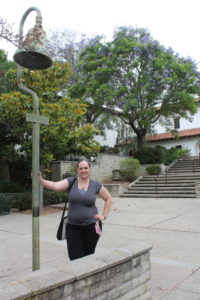 We actually started a day early for our daughter's birthday – we took the kids to a nearby hotel with a great pill (and slide!) And spent the night before dropping them off with my parents in the morning. The hotel was a ton of fun and a great deal since it got us into a fun pool too!
After we dropped off the kids, we took the couple hour drive to SLO. We found a great stop along the way for lunch – a bakery called "our daily bread" with yummy sandwiches (and they even had GF bread for me!).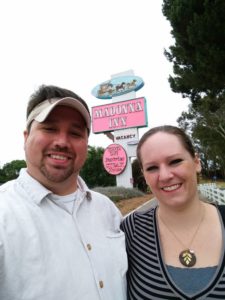 Once we arrived in SLO, we checked into our hotel. We stayed
at the famous Madonna Inn – known for its random, bizarre decor. Each of the 200+ rooms are decorated in a different theme – and all are gaudy. Is a silly place. We took a dip in the pool, then got ready for a fancy anniversary dinner overlooking Morro Bay.
The next day we visited Moonstone Beach – after lunch we searched for moonstones (found a few) and looked on tide pools. Once got back, we switched hotels (only one night was open at the Madonna), so we moved over to Apple Farm, which was amazing: our room had a personal hot tub out the back door!
After a dip in the hot tub, we headed to a drive in movie theater. We had trickle getting the sound to work, and it was freezing, but it was fun.
The next day we went to downtown SLO, where we checked out the mission, visited bubble gum alley (ewewew) and found a store that sold all kinds of soda (cactus fruit, bubble gum, chocolate, etc). Then we packed it up and headed home. It was a wonderful trip!